About Us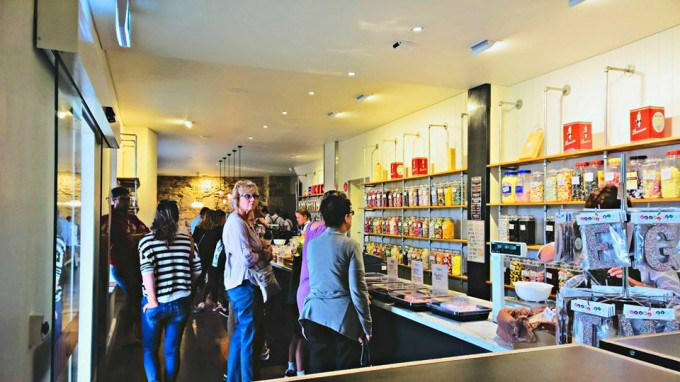 Welcome to Sweets and Treats, the shop of your sweetest dreams!
Whether you like your lollies soft, hard, chewy, sweet, sour, chocolate coated, on a stick, in a bag, in a jar or straight in your mouth, we have it for you!
There truly is something for everyone, even a range of handmade, sugar free lollies.
Sweets and Treats has been the most delicious destination in the historic village of Richmond since we opened in 1985.
Our emphasis has always been on providing old style lollies and treats with good old fashioned service. We display our premium lollies in rows and rows of traditional glass jars, which we cheerfully weigh out by your request.
We specialise in sourcing our huge range of sweets from all over the state, the country and the world. There is a fantastic variety of sweets made right here in Tasmania, including the highly unique Esmeraldas – a fabulous combination of toffee and coconut.
Another Tasmanian specialty is premium ice-cream. We currently offer a staggering 29 flavours of ice-creams and sorbets! The local favourite is the new Choc Peanut Butter, which is made just for us.
Our Team are known for making the best super Deluxe Milkshakes around. Be sure not to leave town without one!
For those with a hankering for something savoury, we have a superb variety of nuts, crackers and nibbles in the Hot Nut Bar. Great for on the go or a munch with a glass of wine after dinner. We are constantly updating our range, so be sure to check back to see what's new!
Follow us on Facebook and Instagram to see our weekly promotions and watch out for our fun competitions.
We look forward to seeing you soon!
TRADING HOURS
Sweets and Treats is open for trading 7 days a week all year round- with the one exception of Christmas Day.
Our usual opening hours are:

Monday to Friday: 9.30am to 5pm – longer in summer/school holidays
Saturday to Sunday: 10am to 5.30pm
Public Holidays: 10am to 5.30pm
Note: In winter these hours may shorten to 10am – 4.30pm
Save
Save
Save
Save
Save
Save